Australian Sweet lupin flour is transforming traditional recipes. Replacing standard ingredients with our Australian Sweet lupin flour leads to familiar food that brings a vast array of nutritional benefits to the table.
At The Lupin Co, we love hearing feedback from those cooking with our superfood products that complement sustainable living values. Australian sweet lupin flour does wonders for the dietary profile of baked goods.
Choosing nutrient-rich Australian Sweet lupin flour
The Lupin Co Australian Sweet lupin flour is full of essential nutrients. Potassium, Magnesium, Calcium, B Group Vitamins, Zinc, Iron, and Amino Acids, for starters, offering the body a powerhouse boost of vitamins and minerals.
Incorporating Australian Sweet lupin flour into foods viewed as everyday essentials like bread is an easy healthy lifestyle step. In recent years, Australians have veered away from store-bought bread to a rising interest in artisanal bread varieties.
A white flour/Australian Sweet lupin flour comparison
Compared with standard white flour, Australian Sweet Lupin flour offers almost four times the protein (at 40%) an astonishing 18 times the fibre (at least 38%) and over thirteen times LESS carbohydrates (4% nett carbs).
For those noting kilojoules and calories, Australian Sweet Lupin flour comparatively has around two thirds the kilojoules and around two thirds the calories of white bread flour, greatly reducing the GI load.
The art of blending Australian Sweet lupin flours
Blending our Australian Sweet lupin flour with other flours generally is a great way to overhaul less nutritious recipes. Replacing just 5% or even up to 30% of another flour with Australian Sweet lupin flour, significantly improves the nutritional landscape of a baked good.
We recommend trialling traditional breads, muffin and cake recipes with a percentage of Australian Sweet lupin flour swapped in for the required flours. Many also work Australian Sweet lupin flour into coating and crumbing mixtures. With less than 4% nett carbohydrate, this product has become a saviour for the many aiming to more closely manage lower GI loads.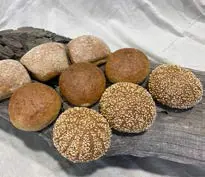 Baking bread with Australian Sweet lupin flour
We've put together the incredibly helpful Bakers Guide to Using Australian Sweet Lupin flour which offers detailed and insightful guidelines around working Australian Sweet Lupin flour from the Lupin Co into your bread recipes. While the Guide is a little technical, more avid bakers will love this tool. We will soon be bringing a home-bakers guide to you with a less technical spin.
The Baker's Guide is certainly for the dedicated bakers and offers clear instructions and analysis for utilising Australian Sweet lupin flour as a part of the bread mix when creating:
• Artisan Country Loaf
• Baguette Poolish
• Ciabatta Loaf
• Sandwich Multigrain Dough
• White Sandwich and a
• Wholemeal Sandwich
Whether your bread is home-baked or for retail purposes, adopting the use of Australian Sweet lupin flour created from Australian Sweet lupins will improve the nutritional value of breads, and for professionals, will transform products.
IBIS World predicts Australia's bread production industry over the next five years will "likely be strongly linked to industry operators providing innovative products that cater to changing consumer tastes and growing demand for healthier options".
How Australian Sweet lupin flour differs
Utilising Australian Sweet Lupin flour means we're using a different species than the bitter-tasting lupin species you might be familiar with, prevalent in Europe and South America. We offer detailed facts about our Australian Sweet lupin flour.
As a high protein (40%) flour Australian Sweet lupin flour is vegan-friendly and caters to keto recipes, vegan recipes and vegetarian meals, as well as a gluten-free diet. Australian Sweet lupin flour has the potential to assist with diabetes control and weight management.
Stock up on high-performing Australian Sweet lupin flour
The Lupin Co range of products and flour is growing in popularity as more people turn to sustainable, healthy eating. Our Australian Sweet lupin flour lasts for at least 24 months if stored cool, dark and dry. For queries around bulk purchasing, contact us today.